Submitted by sam on Wed, 10/04/2006 - 18:46.
We have a new feature on the ClanAM FFXI site that allows our users to send and receive private messages between eachother on the site. If you look at the user navigation box on the right side of the page you will find a new "my inbox" link: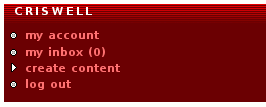 You can see how many new messages you have, as well as access your messages by clicking on the "
my inbox
" link.
I'm not 100% we will keep this feature yet. Please try it out and let me know if you like it. If enough people say they like it, I will make the feature permanent.